NorthCape4000
It started innocently enough, when I met Marceli Byczek on my way. At one of the cycling training camps he showed up wearing a NorthCape4000 jersey. The design was in colors I'm not fond of, but I envied it so much that it made me cry. The plan was simple, in a dark alley chin punch, continue punch from the side, and the last blow from the knee, rip off the jersey off Marceli's back and it's over, I got it. The satisfaction of kicking a colleague would definitely be high, but would it be enough? On top of that I could expect an active and who knows if not brutal defense. It was then that I decided that I would, however, spare myself the potential embarrassment and, as part of NorthCape4000, go to the northernmost tip of Europe, the island of Mageroya, to get that jersey . At the time, I didn't yet know that it would be far easier to stand up and fight with Marceli than to wander around Europe and the less populated parts of Scandinavia.
What is NorthCape4000?
NorthCape4000 is a cycling ultramarathon that has been organized for several years, measuring about 4,000km. Its finish line is located on the rocky cliffs of the North Cape in the Norwegian province of Nordkapp. Contrary to popular belief, it is not the northernmost piece of land, but the farthest to which a road leads, and is therefore the most common destination. From Nordkapp you can walk to Cape Knivskjellodden, about 9km away, and it is the northernmost part of Europe.
The NarthCape4000 is a fully self-supported bicycle ultramarathon, with several hundred riders taking part each year; in 2022 the number taking on the challenge exceeded 300. According to the organizers, the route is fully marked out and passes through so-called gates, i.e. places usually located in sensitive and touristic interesting regions, acting as checkpoints. Each year, competitors start from a different location, and the route differs from those of previous years, which adds spice. One year you can expect the competitors to visit Eastern Europe, while the next year they will cross the central countries of our continent on their way north. The final destination requires good preparation in terms of fitness, but also in terms of logistics, as there are ferry crossings of many hours on the route.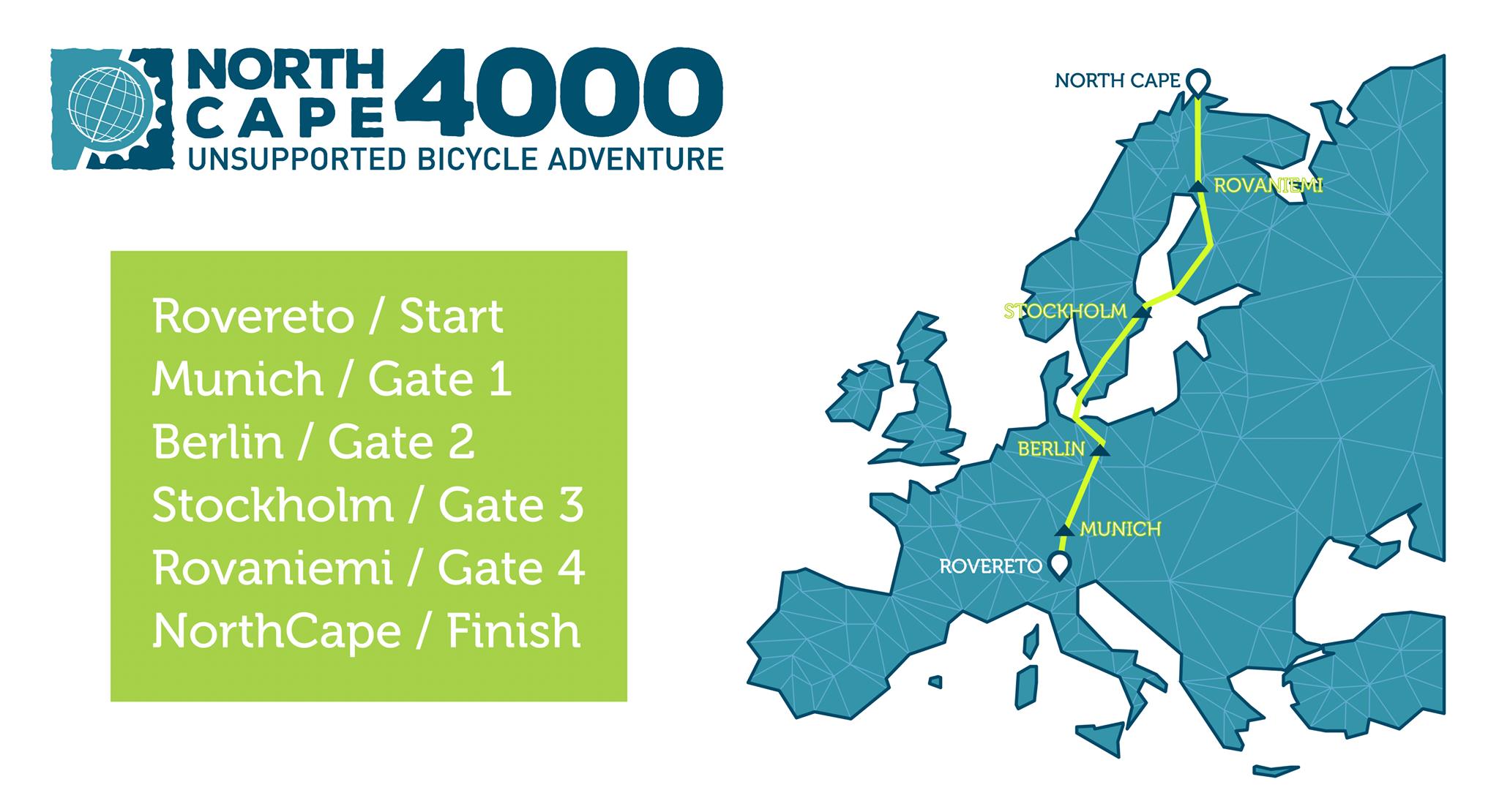 Most treat the event as a real challenge and a way to take a vacation, but there are those for whom the NorthCape4000 is a race. This year, due to a number of fatal accidents on the routes of various cycling events, the organizers firmly communicated that the NC4000 is not a race just a challenge, on top of which a minimum limit appeared in the regulations in addition to the maximum limit. Riding the course too fast equaled removal of the result from the official classification. I do not want to judge these changes, because they had a logical justification, but deciding to take part in this event and paying a high entry fee, I hoped that after the fact there would be no fundamental changes in the regulations. Nonetheless, the event was communicated on social media as a race, and for a sizable group of riders it was just that. For me, too.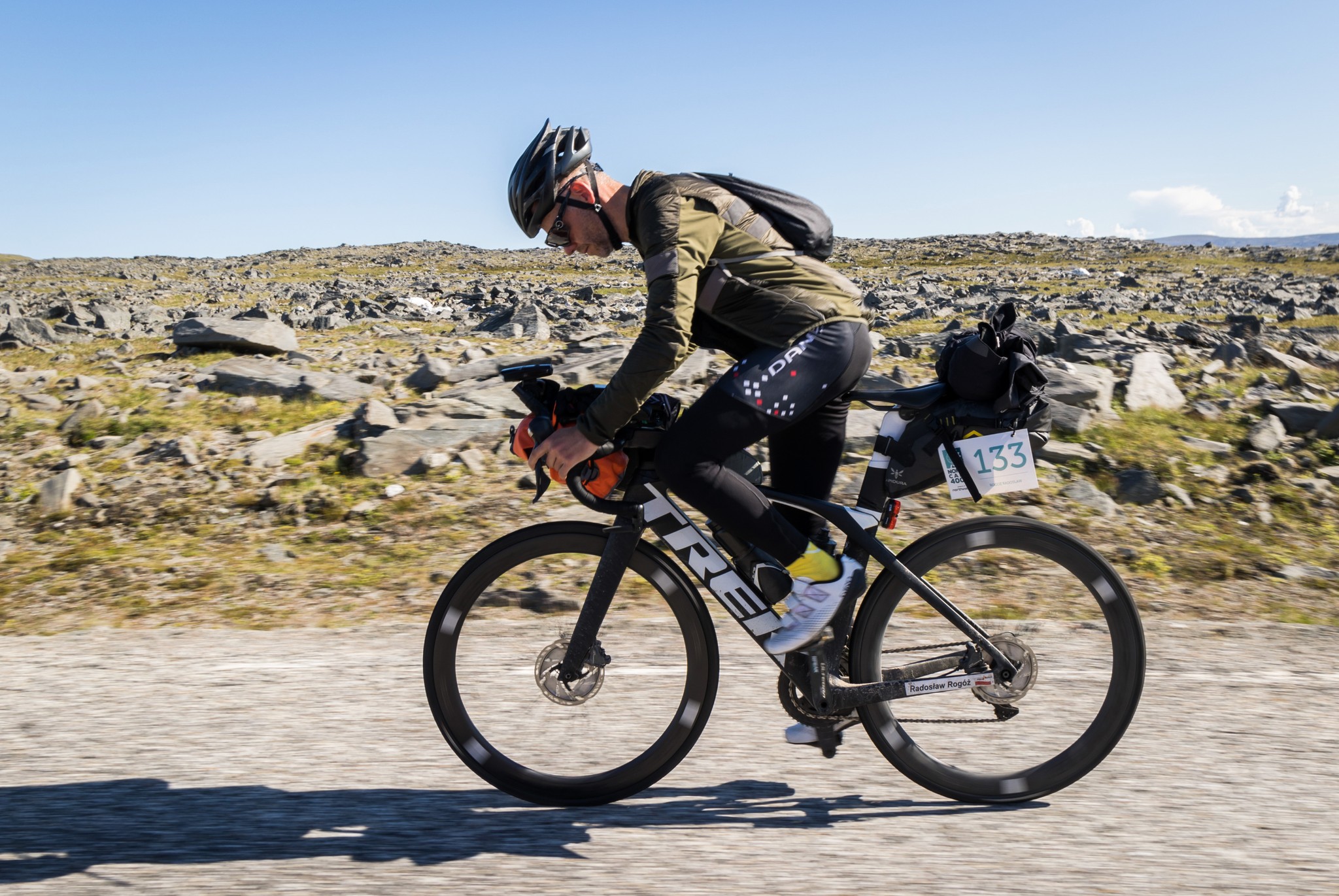 Start for preparation for NorthCape4000
The entire autumn and winter period was subordinated to the NorthCape4000. My plan included a lot of training, which I arranged taking into account the specifics of the route. I visualized everything, fragments, difficult moments. The plan was meticulously worked out, only one element did not fit into my puzzle - the profile. About 20,000 vertical meters on a route measuring nearly 4,000km with most of it in the first few hundred kilometers and at the end, puzzled me strongly. Compared to other multi-thousand-kilometer ultramarathons, this number of meters of elevation was not impressive. I'm not a seasoned climber, but my physical characteristics definitely predispose me to uphill riding. Treating this event like a race, I had to answer some important questions for myself.
Am I able to compete on this route with much more massive and stronger athletes? How many changes do I need to make to my plan in order to ride faster on the flat sections of the course, and does the concept of a versatile and universal cyclist even exist? Did I choose well this year by betting on the NorthCape4000 as my top category race?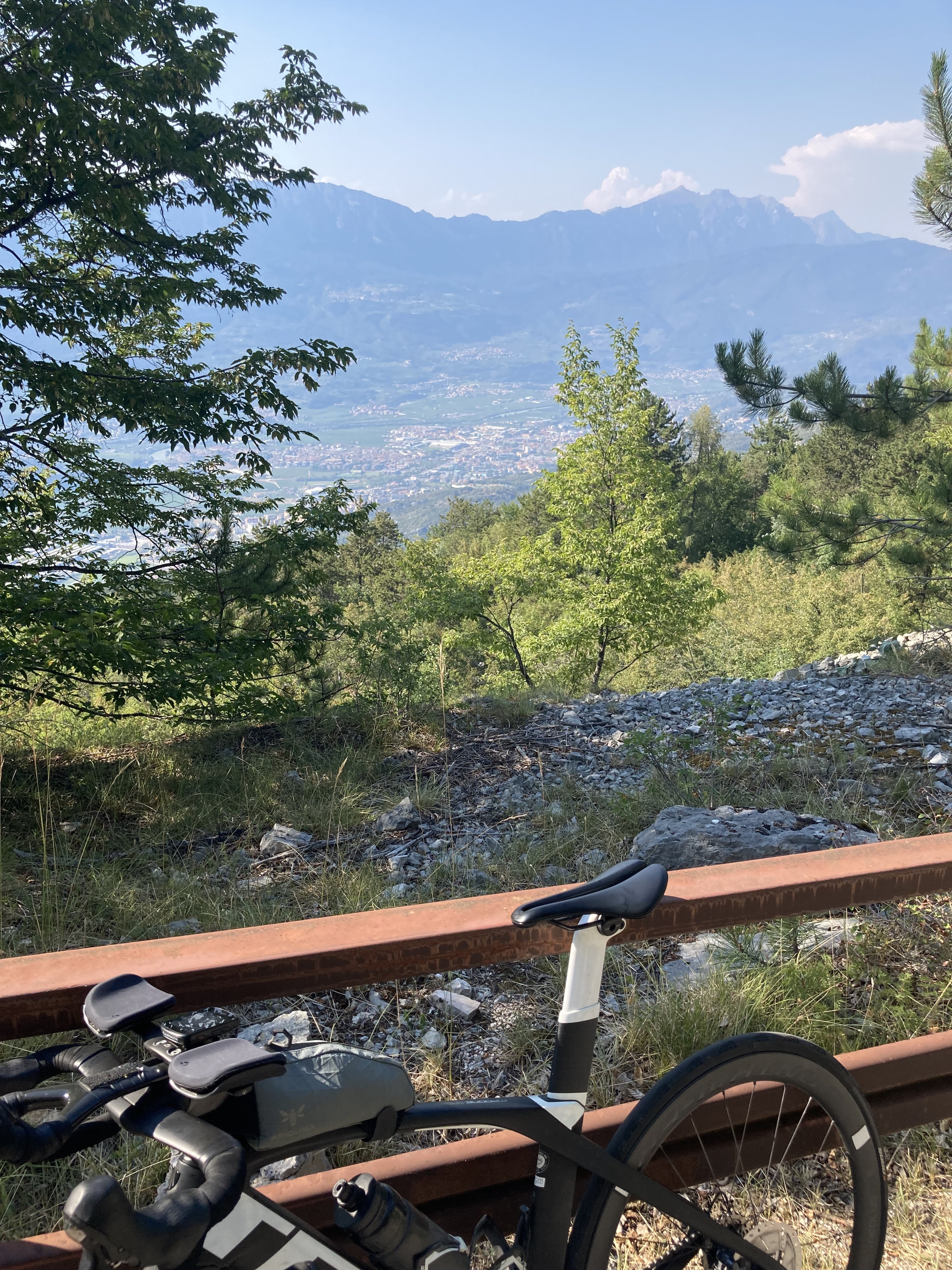 Rovereto
I show up at the start site in Rovereto early, as many as 4 days before the challenge begins. This was not my choice, from the planning of the trip it came out that if I had decided on the option of leaving later, I would have had only a dozen hours until the start when I arrived. And I like to quietly assemble the bike, check everything, get a good night's sleep and a decent meal. I left for Italy on Tuesday morning with a flight to Venice and then by train to Verona and Rovereto, I was there around 5pm, so I had a moment for a short reconnaissance ending with shopping at a local market. All that was left was to relax. As it turned out later, these 4 nights gave me a lot of freedom during the race. Acclimatization influenced the fact that the mountainous start did not crush me immediately, but a little later, I was well rested and above all, healthy.
I spent a lot of time thinking about what role pre-start acclimatization plays in the whole preparation process, can it help or spoil more? Does ultra acclimatization before a multi-thousand-kilometer race matter? After all, at such a distance an athlete will find himself in different climatic conditions over several days, often crossing time zones as well.
If I had stayed at home and decided to leave later I would not have answered these questions, and it is more than certain that I would not have appeared in Rovereto, because I would have taken over the covidium baton from my wife and daughter, who brought this shit from a joint trip to Krakow. An earlier flight to Italy prevented me from meeting them, which saved months of work and the whole endeavor.   
Registration went smoothly, like any other. I had already provided the organizer with a set of documents including a medical certificate and insurance. The package I received included sweet gels, the brand of which I can't remember, and a cycling bottle. If I had known about it earlier today I would have proudly carried it in my cage, and so I had to leave it in Rovereto. I didn't have extra space for it and, as it turned out later, I wasn't the only one.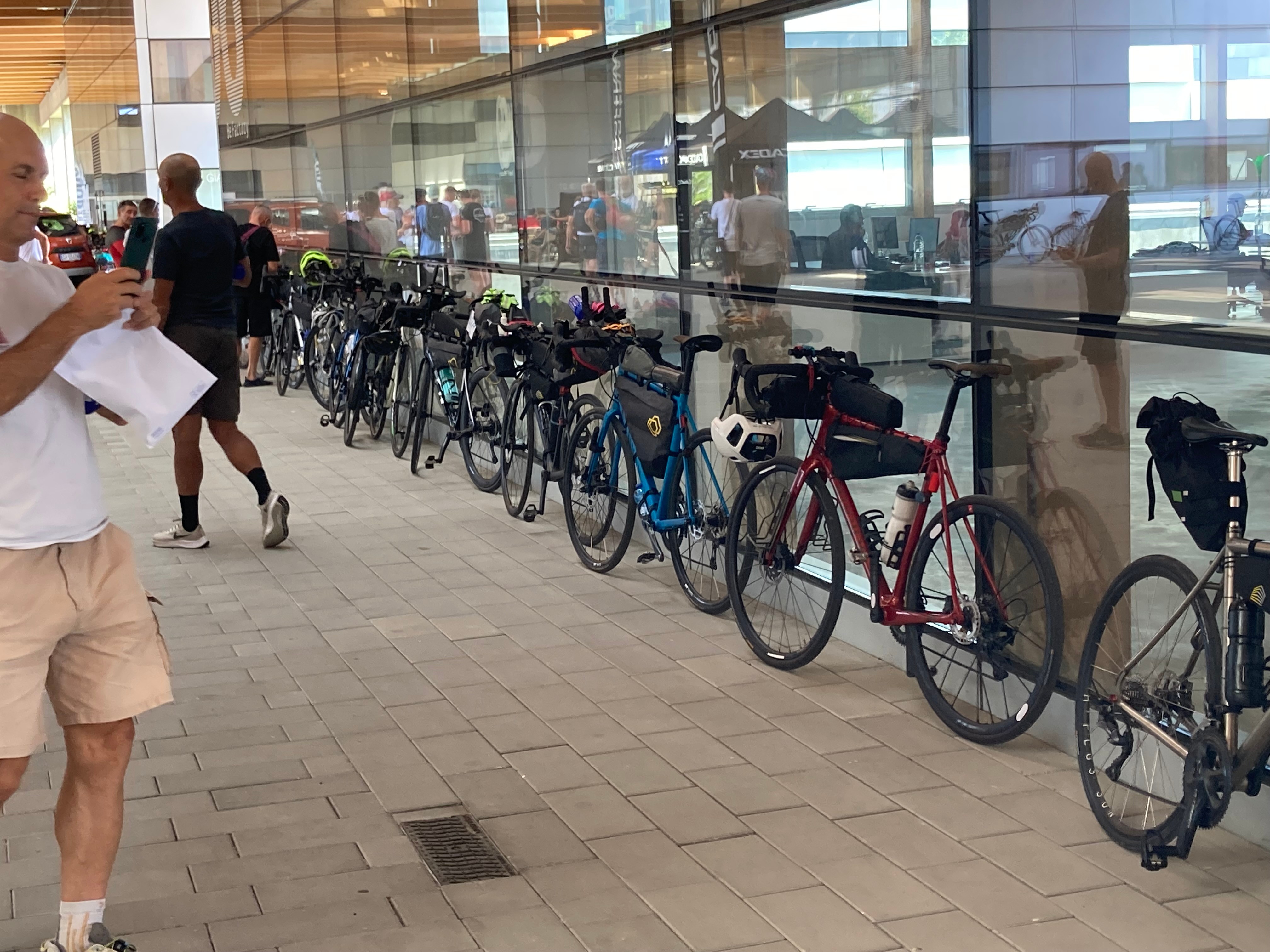 NortCape4000 start
The beginning was chaotic and crowded, as we started from a common start with a group of more than 300 male and female riders. The trip was difficult, in places I had to stop, because the route was routed along local bike paths and at every more difficult turn it made a "traffic jam". This was not new to me, as I had already had the opportunity to stand in line during the Ronde Van Vlaanderen waiting for the climb to begin. On the one hand, it was safe, because we were riding on the bike path without the company of cars, but on the other hand it was highly stressful, because I found myself in a group of people whose cycling skills I did not know. I was afraid of unpredictable and dangerous maneuvers. It would seem that in such a place there would be seasoned and experienced cyclists themselves, but unfortunately this was not the case. I slowed down to ride at the back of the pack and kept a safe distance from the larger groups. All this meant that I was far from the intensity I had assumed earlier. I started to accelerate and move forward consistently, but I still wasn't riding hard. All the time I remembered how I had planned to ride in the initial 300 kilometers. I was helped by the circumstances - a large number of riders, narrow paths, and a devilish wind that chopped so hard that it sent saliva down my cheeks. This effectively corrected my urges.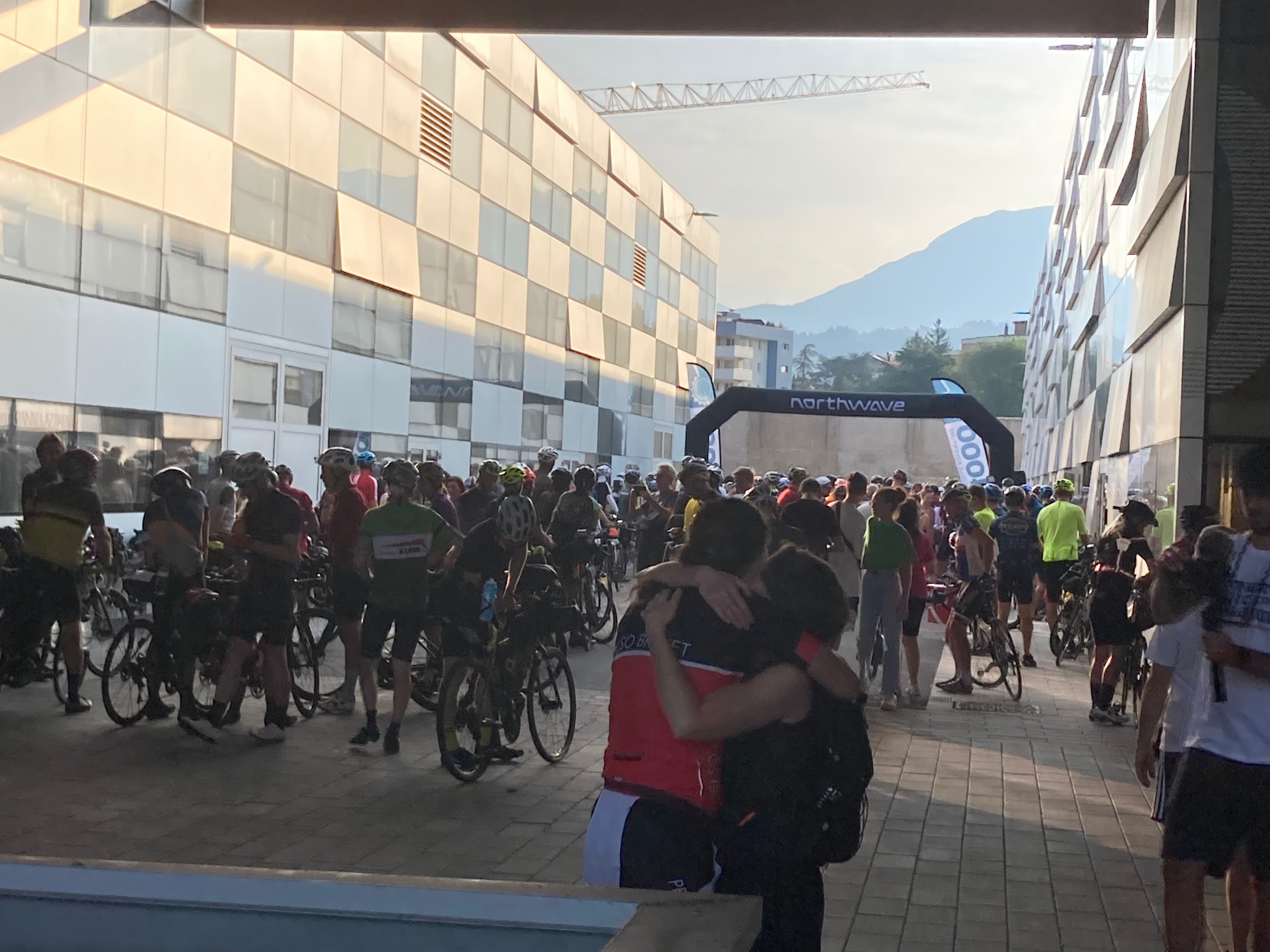 NorthCape4000 day one
We were breaking through the mountains on our way to the Austrian border. We rode as if through a giant ravine, with mountains reigning on our left and right. Only occasionally we used the roads as a connecting bike path. The route was designed to avoid the most difficult parts of the region, even the area around Bolzano, which I know from when I rode the Transcontinental No7, seems decidedly smoother.
After about four hours of riding it got looser and I wasn't the only one who decided to speed up. Every now and then I was overtaken by groups of several people, who were solidly pushing the ride. It was clear that I did not fit in here. It seemed that some of the riders had colluded in groups and would push hard to the front. This was a good plan as long as they knew each other and this was the strategy they adopted long before the start. However, as time went by, I could see that it was a haphazard assemblage, which temporarily matched the pace of the ride, because at every major turnaround or gentle hill the formation disintegrated, and it costed too much energy for some to pull the group together again. I let go of these games, even though ambition suffers badly. This was my first success on this tour, and I resigned myself to being overtaken.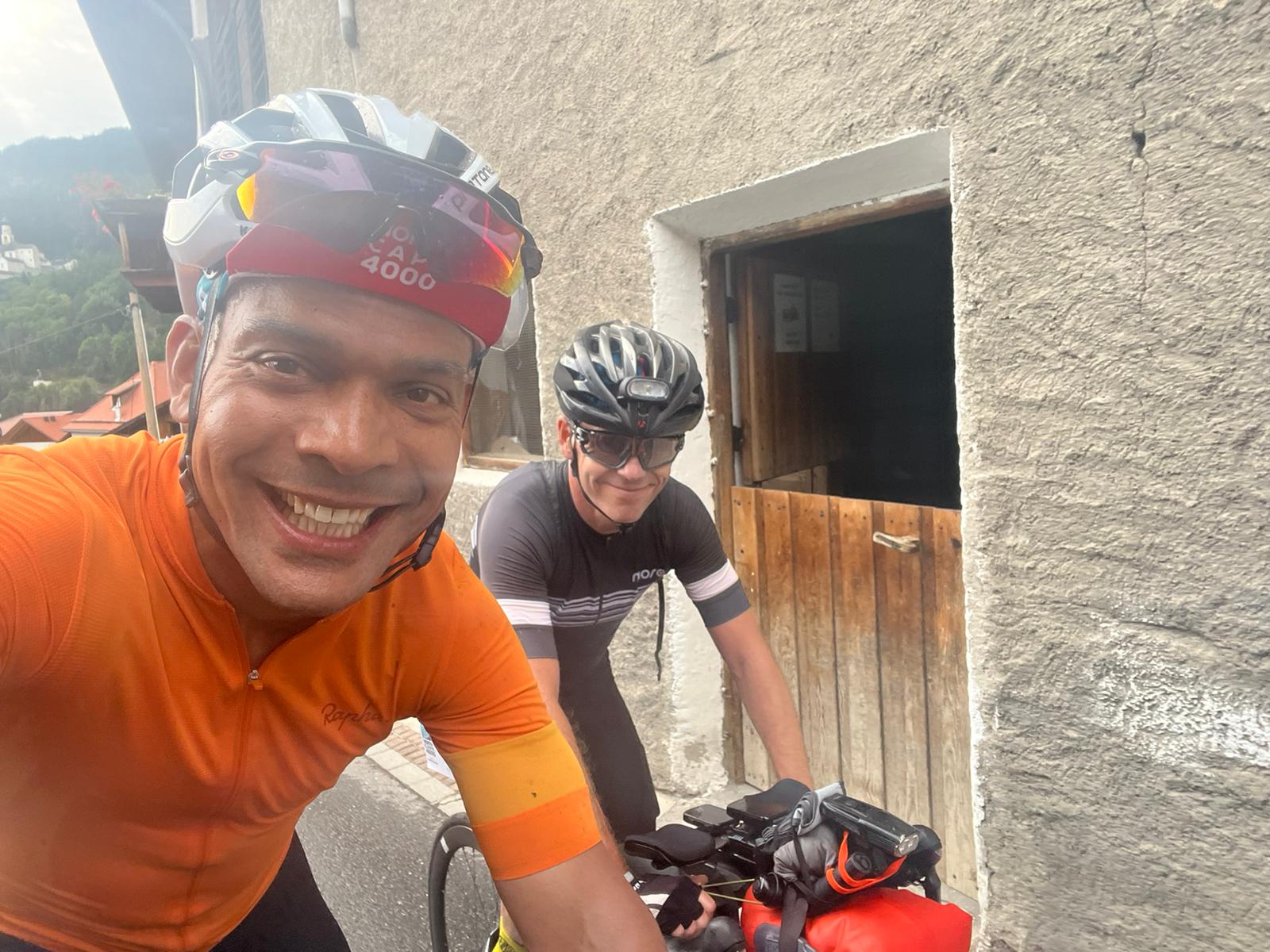 We crossed the Alps on our way to the first checkpoint located in the heart of Munich. There were three of us riding, and after a few longer climbs two of us left. The weather has started to take over as a game changer, as the scorching Italian sun gave way every now and then to gray rain clouds. A real weather festival has begun, from near 40-degree heat to gigantic downpours of several minutes. And so on and on, like a kaleidoscope, as soon as I managed to take off my jacket and dry a bit the rain corrects what it started earlier. Everything has stabilized closer to Innsbruck, and there my companion Nicholas leaved me for the previously planned overnight stay. I started the first night with my head loaded with many doubts. The day has shown that a real temperature swing is ahead of me, and this is just the beginning. What will it be like in Scandinavia? Covering the next kilometers of the route, I repeatedly analyzed the equipment I took:
Sleeping bag x1pc.

Down jacket x1pc.

Winter cycling jacket x1pc.

Thin rain jacket x2pcs.

BiB Shorts x1pc.

Long sleeve warmer x1pcs.

Leg warmers x1kpl

Sleeves x1kpl

Buff x2pcs.

Reading glasses x1pc.

Short gloves x1kpl.

Waterproof gloves x1kpl.

Thin running gloves x1kpl.

Thick winter gloves x1kpl.

Winter shoes protectors x1kpl.

Merino short socks x1kpl.

Merino long socks x1kpl.

Inner tube x3pcs.

CO2 cartridges x3pcs.

Inflator x1pc.

Hand pump x1pc.

Pedal cleat x1pcs.

Repair kit - patches, sandpaper, glue 1kpl.

Derailleur hook x1pcs.

Spare screws for fixing the hook x1kpl.

Brake pads x1kpl for 1 disc.

Valve wrench x1pc.

Chain link clips x2kpl.

Chain lubricant x1pcs.

Derailleur cable 1pc.

Spoons x1kpl.

Multitool x1pcs.

!!! pedal wrench !!! x1pc.

Navigation x2 plus x2 external battery 1xkpl.

Powerbank 10 000 mAh 1xpcs.

iPhone charger x2pcs.

Phone charging cable x1pc.

USB cable x2pcs.

MP3 player x2pcs plus headphones x1pcs.

Tick extractor tool x1pc.

Artificial skin cut into fragments x1pc.

Anti-friction cream x2 tube.

Remedies for dilation and to bind fecal matter x1kpl.

Diastolic agents x1kpl.

Analgesics and anti-inflammatory x1kpl.

Lamp rear x2pc.

Lamp front x1pc.

Lamp cells x6pcs.

Headlamp x1pc.

Documents and means of payment x1kpl.

Phone x1pc.

Water bottle x2 0.7+0.5 x1kpl.

Softflask 0.5 x1pc
I did not exceed 15kg, but did I have everything?
#ultratrack